Sr Clare Crockett: Body of nun killed in Ecuador earthquake due to arrive in Ireland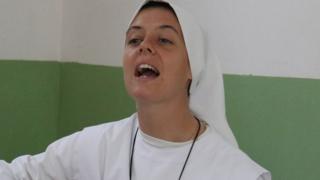 The body of Ecuador earthquake victim Sister Clare Crockett is to arrive back in Ireland later.
The 33-year-old from Londonderry was one of six people killed in Playa Prieta when a school collapsed.
Her body is due to arrive in Dublin later, before being returned to her family in Londonderry tomorrow.
A funeral Mass will be held at Long Tower Church in Derry on Monday at 12:00 BST.
At least 655 people died and whole towns were destroyed in the 7.8 magnitude quake.
The Kevin Bell Repatriation Trust has been working with the authorities in Ecuador on behalf of the family.
Efforts to bring Sr Clare home had been delayed because of increased pressure on the authorities to issue death certificates.
Sr Clare and another Irish nun, Sr Thérèse Ryan from County Limerick, were part of the Home of the Mother order.
They had been teaching guitar and singing with five young women postulants, who were entering the religious order, when the earthquake struck.
It is believed that they were running out of the building and were trapped on a stairway.
Fr Roland Colhoun, who knew Sister Crockett, described her as "a beautiful person".