Limavady man Declan Paul Butcher jailed for two 'one-punch' attacks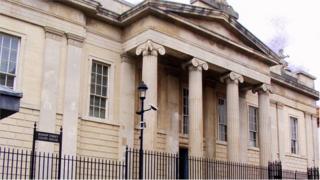 A 25-year-old man from Limavady has been jailed for knocking out two men in separate attacks on the same night.
Declan Paul Butcher from Roe Park Court committed the 'single punch' assaults on Market Street in Limavady on 2 October 2014.
CCTV footage showed his first victim being knocked unconscious. A second man suffered a double jaw fracture.
Butcher appeared at Londonderry Crown Court on Thursday. He was sentenced to 14 months in prison.
The court heard that the defendant had 51 previous convictions including eight assaults.
He had also been assessed as presenting a high likelihood of reoffending.
The judge told Butcher he had inflicted "gratuitous violence" on two" completely innocent" members of the public.
The second man was punched and knocked out when he came across the first victim lying unconscious on Market Street.
Both men later regained consciousness in hospital.