Paul McCauley: Man charged with murder of Londonderry man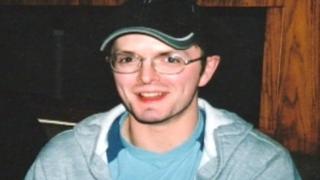 A 28-year-old man has been charged with the murder of Paul McCauley, who died nine years after he was attacked at a barbecue in Derry in 2006.
The man is also charged with grievous bodily harm (GBH) and attempted GBH and is due in court in Derry on Friday.
A 61-year-old man, who was arrested in England on Wednesday, has been charged with withholding information.
A third man, aged 27, has been released on bail pending a report to the Public Prosecution Service.
Mr McCauley was a 29-year-old civil servant when he was assaulted during a summer barbecue for a friend at Chapel Road on 16 July 2006.
In the early hours of the morning, a number of people came out from the bushes and attacked him and two of his friends.
At the time of the assault, police said they believed up to 15 people were involved.
The father-of-one suffered serious head injuries and never regained consciousness.
He died in a care facility in June 2015.
The following month, Piper John McClements, previously known as Daryl Proctor, was charged with Paul McCauley's murder.
Mr McClements, from the Fountain area of Derry, is currently out on bail awaiting trial.
The other men, aged 27 and 28, were first arrested last year and subsequently released on bail.
They were both re-interviewed on Wednesday and the elder man was charged with murder on Thursday evening.
The 61-year-old man was arrested in Kent on Thursday morning and brought back to Northern Ireland for questioning.
He is due to appear in court on 4 May, charged with withholding information.
Mr McCauley's father Jim and his wife Kathy have been involved in a long battle to get justice for what happened to their eldest son.