Former Foyle DUP MLA Maurice Devenney 'pushed out' by party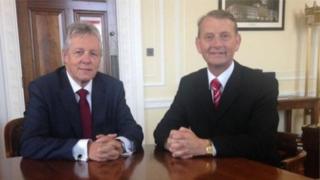 Former Foyle DUP MLA Maurice Devenney has told the BBC that he was 'pushed out' of the party.
The Londonderry councillor said: "In my term up there (Stormont), I was put under pressure by some senior members of the DUP."
Mr Devenney was suspended from the DUP amid claims he had brought the party into disrepute.
A DUP spokesman said:"Squabbles are generally of no interest to the electorate."
On Wednesday, Maurice Devenney announced his intention to stand in the Assembly election as an independent unionist.
'Angry'
When asked if he had effectively been pushed out by the DUP, he replied "very clearly".
Maurice Devenney also responded to claims that he had brought the party into disrepute.
"I would refute that, definitely refute that. I had unionists that were coming up to me and saying quite clearly, we are tactically voting SDLP today to keep Sinn Fein out."
Mr Devenney said that he "categorically" never told people to vote SDLP.
He said he did not appeal his suspension from the DUP because the 'deal had already been done'.
When asked if he was angry about that decision the councillor said "yes".
A DUP spokesman added:"There is only one Unionist seat in Foyle. The unionist people of Foyle deserve a good MLA.
"Even Maurice Devenney recognises that Gary Middleton is the best man for the job."
Last month, the Ulster Unionist Party released a statement welcoming Mr Devenney into its fold.
The former MLA said he made the move after some "intense discussion within the broader unionist family".
Party leader Mike Nesbitt expressed his surprise when just a few days later "unresolved issues" prevented Maurice Devenney from joining the party.
Mr Devenney states that he never officially became a member of the UUP.