RUC Memorial Plaque: Stephen Martin admits 'Mistakes were made'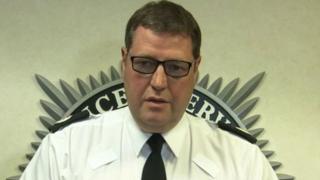 The assistant chief constable of the PSNI has apologised for the relocation of a plaque to murdered RUC officers in Londonderry.
The memorial was moved away from a public area of Strand road police station to another room.
Stephen Martin said that no local commander had the right to remove or relocate memorials to officers killed in the line of duty.
He admitted that mistakes were made and that "protocols were not followed".
The memorial commemorates fallen RUC and PSNI officers.
'Distress and Hurt'
"We are very conscious of the hurt and distress caused by the resiting of some of these memorials," said Mr Martin.
"I know that the commander in Derry and Strabane, Supt Mark McEwan, has already expressed his apologies and I would add my apologies and that of the chief constable for any distress or hurt."
The memorial was on display in what used to be an enquiry office at Strand road police station. There are also other items of commemoration in a lecture theatre.
Stephen Martin told BBC Radio Foyle that Supt Mark McEwan wanted to bring all these items together in a special place within the station so that people could see them on a more frequent basis.
"Our own protocols for resiting them are that we do consultations with the victims families," he said.
"On this occasion he didn't do it and no one regrets that more than him. He didn't follow the protocol.
"He made the decisions for all the right reasons, with really noble and legitimate intentions but he himself would recognise that it wasn't handled the way it should have been handled."
Supt Mark McEwan is now in consultation with families and those concerned. One of the options available is that the plaque is returned to its original place.