Vandals cause £1,000 of damage to Donemana pottery mill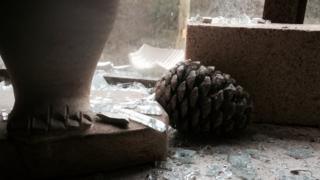 Damage of up to £1,000 has been caused to a County Tyrone pottery mill by vandals.
Police said around 20 windows at the property were smashed as well as a number of pottery items.
It happened in the Brook road area of Donemana sometime over the weekend.
Artist Tom Agnew has housed his work there for 40 years. He said the damage will not be covered by his insurance company.
"They used a cocktail of ammunition to put the windows in, rocks and tiles and even some of my own stock.
"As I look around there's glass absolutely everywhere.
"Kids are kids but it's pretty obvious that this building is occupied and someone is making a living."
Targeted before
Mr Agnew said it was not the first time the studio had been targeted.
"I had a similar incident 25 years ago but it's very disappointing and I could be doing without it particularly at this time of year," he said.
"Based on previous experience is to just get on with things and carry on. I wont have any cover for criminal damage on my insurance."