Newtownstewart Orange hall attack 'sectarian hate crime'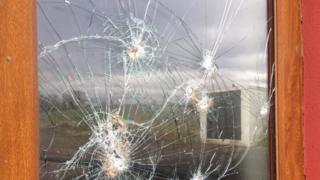 An Orange hall in County Tyrone has been damaged in an attack that police are treating as a sectarian hate crime.
Five windows, including door panels, were smashed at Strawletterdallon Orange hall, near Newtownstewart.
The damage was discovered at the hall in Plumbridge on Wednesday night but is thought to have been caused during the previous night.
Inspector David McIlwaine said that the damage was caused to the rear of the building.
'Destruction'
An Orange Order spokesman described those responsible as "mindless thugs intent on causing community division."
He said: "This was an act of wanton vandalism with the clear intention to cause damage and destruction to Orange property.
"However, the culprits are actually harming the wider community and groups who use the hall as a social hub and meeting place."
The Orange Order said that in 2011, the same hall sustained scorch damage after being targeted in an attempted arson attack.
It said that last year nine halls were targeted.