Stuck-in-the-mud driver reunited with 'heroic' hen party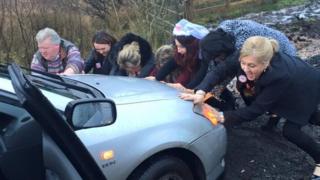 A driver whose car got stuck in mud has been reunited with the hen party that helped him out.
Journalist Richard Chambers was making his way to Letterkenny in County Donegal when his car became stuck in mud and gravel.
A mini-bus carrying a hen party then came along to help him. Mr Chambers said the group women were "heroic".
Catherine Callaghan was the bride-to-be who arrived with her crew - pink feather boas and all.
Mr Chambers' car skidded to the side of the road outside Ballybofey when he drove over a large amount of water.
He tried to reverse it but it got stuck. He called the AA but they said they would be an hour and a half.
"We were on our way home and we noticed the car off the road," said Catherine Callaghan.
"One of the girls was a nurse. We thought something was wrong so we got out. It turned out he was just stuck in the mud.
"It was my hen party. I get married on February 26. It will be a good story for the speeches.
"We didn't even think about the high heels or nothing. We just ploughed on to rescue him."
Richard Chambers told BBC Radio Foyle: "I really appreciated their help.
"I had a load of interviews lined up across Donegal and if it wasn't for them it would have been a whole day of news coverage lost.
"I will send a token of appreciation to them in Donegal."