Battle of the Somme: Council row over charity event invite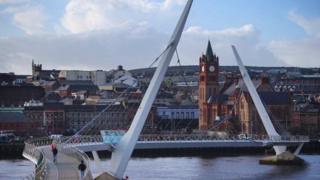 A row has erupted at a council meeting in Londonderry following a decision to vote against council leaders attending a charity event to commemorate the Battle of the Somme.
It follows an invitation from ABF, the soldiers charity, to a concert in Belfast in May.
The proposal was rejected at a Derry City and Strabane District Council meeting on Tuesday.
The DUP's David Ramsay said the move "will anger the protestant community".
'Sectarian rant'
Independent councillor Gary Donnelly disagreed.
"I believe this invitation was a slap in the face to tens of thousands of people in this city," said Mr Donnelly.
"The army is responsible for horrendous atrocities across this city.
"People have a right to commemorate the Somme but this is an attempt by the British Army to marry what happened at the Somme to present day activities. "
'Bigotry and hatred'
Councillor Ramsey said: "We are left now with no one attending from council, which is an issue.
"We also talked about a beacon for the Queen's birthday and councillor Donnelly asked in the meeting if the Queen would be put on top of it.
"We were invited to a cross community event to commemorate the Somme. We are supposed to be celebrating and commemorating without this sectarianism, bigotry and hatred."