Martin McGuinness: ' I will never fight a Westminster election again'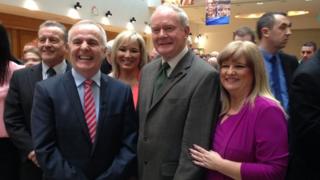 The Deputy First Minister, Martin McGuinness, has ruled out standing for Westminster ever again.
It follows speculation that he could stand for Parliament in Foyle, after he confirmed that he would be seeking election as an MLA for Foyle.
However, he told BBC Radio Foyle that he has no interest in going to Westminster.
The Sinn Féin politician was Mid Ulster MP from 1997 until January 2013.
But like all Sinn Fein representatives he did not take his seat at Westminster.
Mr McGuinness said: "All the big decisions about people's lives in terms of the health service and education are taken at the assembly and the executive. That is where the power lies.
"I will never again fight a Westminster election.
"I have dedicated my life to peace. One of the most remarkable things that has happened in the last 20 years has been that we have turned a conflict into a peace process."
Mr McGuinness also said that he blamed the the Ulster University for the failure to expand student numbers at the Magee Campus.
He said that decisions made by the university had caused the lack of progress.