Attack on former girlfriend was 'ferocious'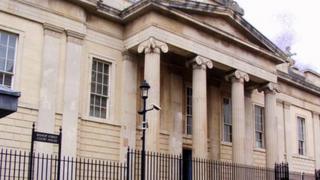 A district judge in Londonderry has described an attack by a nursing degree student on his former girlfriend as "ferocious".
During the assault, the woman was punched, kicked and dragged her around her home.
Brendan McIvor, 30, from Templeard in Derry, carried out the attack in the victim's home last July.
He admitted kicking and punching the woman to the head and pulling her by the hair.
'Outrageous'
The woman was later treated for bruising to her right eye, a head injury and friction burns to her arm.
A defence barrister told Deputy District Judge Terence Dunlop that McIvor was close to completing his nursing degree, after which he aimed to find work placement.
He also hoped to study for his masters degree in nursing.
The barrister said that McIvor accepted his behaviour was outrageous and that he had anger management issues.
McIvor was placed on probation for 18 months and ordered him to complete 70 hours of community service.