Londonderry family's fears after suspected arson attack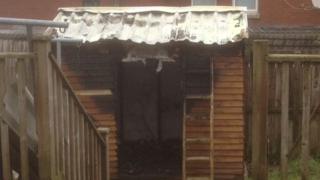 A mother of three has said she is leaving her home in Londonderry after a suspected arson attack at the weekend.
The shed at the back of the house was destroyed in a fire early on Saturday morning.
A police patrol spotted the fire and rescued Lisa Scarlett, her children and her nephew from the property in Liscloon Drive in Shantallow.
The police have said they are investigating a suspected arson attack.
'Running'
Lisa said that it was a terrifying experience.
"I got woke up by the police coming up my stairs shouting that there was a fire and that we had to get out quick.
"I started grabbing the children and running down the stairs with them and waited for the fire brigade.
"I just want out now as I don't feel safe in my home anymore. The children keep talking about the fire."