Fire at shed in Londonderry to cost half a million pounds to repair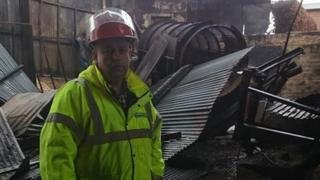 The owner of renewable energy company, which was damaged in a major fire in Londonderry, says it could cost up to £500,000 to restore his business.
The fire broke out at 05:00 GMT on Saturday morning in a shed containing around 600 tonnes of wood chip.
Forty-five firefighters dealt with the blaze in the building, which is situated on farmland off the Culmore Road.
John Gilliland said they suspect the fire was caused by a tractor battery.
'Unfortunate'
"The farmyard has lost 40% of its local capacity. The fire started early on Saturday morning and we fought for two days to put it out.
"We believe we know what has caused the fire and there are a collection of costs here," he said.
"It could cost about half a million pounds. This was an unfortunate accident and not the way we wanted to start 2016.
"There are people out there who are prepared to give their time to help us."