Fire at shed in Londonderry was 'accidental'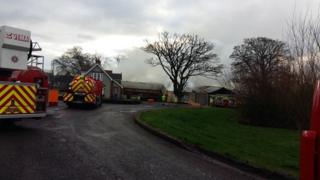 A senior fire officer has said a blaze in a large shed in Londonderry was started accidentally.
It broke out at 05:00 GMT on Saturday morning in a shed containing around 600 tonnes of wood chip.
Forty-five firefighters dealt with the blaze in the building which is situated on farmland off the Culmore Road.
Assistant Group Commander Warren Kerr said he does not believe the fire was malicious.
'Unstable'
"This was a very big operation for the fire service. There are still 200 tonnes of wood chipping to be removed and to extinguish.
"This is a dangerous operation for firefighters and it is because of the amount of material that was in the shed," he said.
"Due to the fire the shed became very unstable.
"We are hoping to resolve the incident completely today."