Christopher O'Kane jailed over IRA police confession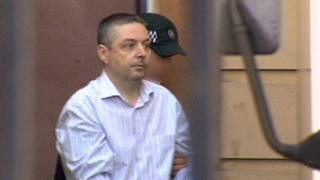 A man who confessed to a string of IRA-related offences in the 1990s has been given a 10-year prison sentence.
Christopher Paul O'Kane, 42, of Woodland Avenue, Londonderry, walked into a police station more than a decade later to make a confession.
He pleaded guilty to five charges including assisting in the murder of a policeman in 1993.
It is thought he will be released in May, as the offences happened before the 1998 Good Friday Agreement.
O'Kane has also spent several years on remand.
He pleaded guilty to five offences:
Assisting offenders in relation to the murder of Michael Ferguson, a 21-year-old Catholic RUC constable who was shot by the IRA in Shipquay Street, Derry, on 23 January 1993
Firing a mortar bomb at a police vehicle in the Fanad Drive area of Derry in October 1993
Causing an explosion with intent to endanger life, in relation to a trip-wire bomb left at a railway line near Ebrington Barracks in December 1993
Placing a bomb on a windowsill at the home of an assistant chief constable in Prehen in the city in February 1994 - while the detonator exploded, the bomb failed to go off. On this occasion, O'Kane telephoned a bomb warning to the Samaritans
Being part of an IRA gang who placed a bomb at the Fort George jetty in Derry on 23 May 1994.
Belfast Crown Court was told how in May 2008, O'Kane walked into Strand Road Police Station in Derry and told officers he wanted to confess his involvement in various terrorist-related offences in the 1990s.
The court heard that O'Kane, whose mental health had begun to deteriorate in 2007, was interviewed then released later that day.
When he was interviewed again in September 2008, he would not answer any questions and made no explanation for his earlier confession, other than to say he was under the influence of alcohol and prescription medication.
A year later, after a report was submitted to the Public Prosecution Service, it was decided not to prosecute him, the court heard.
'Expressed remorse'
However, in September 2012, O'Kane contacted police again and stated he wished to be re-interviewed and made admissions to a series of IRA-related incidents.
The prosecution said that on this occasion, O'Kane "expressed remorse and a desire to admit the offences".
The court heard that prior to 2007, O'Kane had a good working record which included a senior position as an IT manager, before his marriage broke down and his mental health deteriorated.
A defence barrister said O'Kane had "cut any links with the Provisional IRA" years ago, and his remorse was genuine.
"This offending would never have come before the court had he not made full admissions," he said.
The judge acknowledged the offences "took place 20 years ago when he was a young man", but he said the offences were "terrorist in nature" and noted the "serious and permanent injuries" caused to the targets.
While he accepted O'Kane's role was not one of a bomb-maker or a planter of bombs, the judge said he was "acting as a member of a terrorist group" whose intention was to target members of the security forces.