A5 and A6: Almost £500m allocated for road projects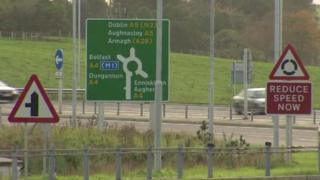 Almost £500m has been allocated to upgrade the Londonderry to Belfast and Londonderry to Dublin roads.
About £258m has been allocated to the A6 over the next five years while the A5 will get £229m.
The funding was announced as part of the Stormont budget on Thursday.
Deputy First Minister Martin McGuinness said he was "hopeful" that work on the roads would begin in 2016.
The Irish government said in November, after the Fresh Start deal, that it was willing to provide £75m towards modernising the A5.
It was said at the time that Stormont would also match this funding.
Mr McGuinness had issued an ultimatum in October saying he would not agree a programme for government after the assembly election if work on the A5 did not commence in 2016.
The A5 cross-border project, which would lessen journey times by up to 20 minutes, stalled in 2013 due to a ruling by the High Court.
The story of the A5 so far:
The preferred route for the A5 was announced in 2009
An inquiry was ordered in May 2011 into the environmental impact of the scheme
The Irish government reduced its funding for the project from £400m to £42m in November 2011
A public inquiry into the road was found in favour of the scheme going ahead in July 2012
The project stalled again in 2013 due to a ruling by the High Court.
The Irish government said in 2014 it would review its decision to withdraw funding
In November, following the Fresh Start Agreement, the Irish government said it was ready to provide £75m towards the A5
'Great news'
On Thursday, Finance Minister Arlene Foster said: "Major flagship capital projects have been given the green light with funding beyond this one-year budget.
"This will deliver key infrastructure projects such as the A6 road and the New Buildings to Strabane section of the A5 road, Belfast Rapid Transit as well as the Mother and Children's Hospital."
Sinn Féin MLA Cathal Ó hOisín said: "The funding package is the most significant funding announcement for this vital infrastructure project.
"This is the announcement we have been waiting on for 50 years."