BBC Radio Foyle journalist charged with rape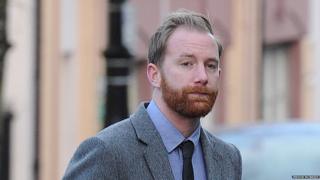 A BBC journalist has appeared at Londonderry Magistrates Court charged with rape.
Sean O'Halloran, 29, from Northland Road, is accused of raping a woman in May last year.
The defendant, who is a journalist with BBC Radio Foyle, faces two additional charges of sexual assault on the same date.
A prosecution lawyer said she believed he had a case to answer.
He replied "no" when asked if he had anything to say to the charges.
He was remanded on bail of £500 to appear for an arraignment hearing at the Crown Court on 6 January.