Donegal car crash: Shaun Kelly has sentence doubled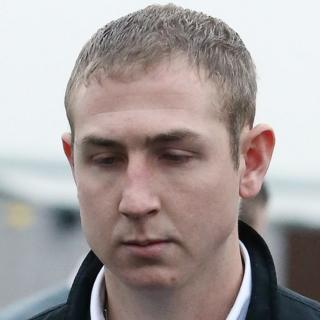 A 25-year-old man who admitted causing the deaths of eight people in a road crash in County Donegal has had his jail sentence doubled.
In December 2014, Shaun Kelly, of Hill Road in Buncrana, was sentenced to four years in prison, two of them suspended.
An appeal court ruled that sentence was unduly lenient and it was doubled to eight years with four suspended.
Kelly was driving during a crash at Meenaduff in July 2010 - the worst crash in Ireland's history.
Hugh Friel, 66, who was driving home from bingo and seven men, aged between 19 and 23 who were passengers in Kelly's car, were killed in the crash.
The passengers in his car were 21-year-old Mark McLaughlin, from Fahan; Paul Doherty and Ciaran Sweeney who were 19 and from Ballyliffin; Patrick McLaughlin, 21, from Burnfoot; 22-year-old Eamonn McDaid and 21-year-old Damien McLaughlin, both from Buncrana, and James McEleney, 23, from Clonmany.
Kelly was the only survivor of the crash and sustained serious injuries.
In July 2014, he changed his plea to guilty of causing death by dangerous driving as a jury was being sworn in at Letterkenny Circuit Court.
Giving the Appeal Court's judgment on Monday, a judge said the said the collision on 11 July 2010 had had devastating consequences.
If the matter had gone to a full trial with Kelly pleading not guilty, he said the maximum sentence of 10 years, or close to that sentence, would have to have been considered.
The judge said the aggravating factors were the multiple fatalities, the prolonged persistent and deliberate course of very bad driving in the run-up to the collision, the overcrowding of Kelly's car, the overtaking and failing to heed a warning.
He said the culpability was very high and the harm caused enormous.
In mitigation, the judge said it was taking into account Kelly's youth, his plea of guilty and the significant injuries that Kelly himself had sustained.
He said there was real remorse and what had happened would affect Kelly for the rest of his life.
He said the attitude of some of the families was extraordinarily generous but did not determine the sentence of the court.
The original ruling to ban Kelly from driving for 10 years was not changed.