Londonderry security alerts: 1,000 people leave car park concert over third alert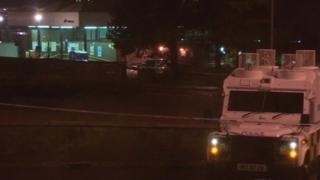 It has emerged that around 1,000 people had to leave a concert at an underground car park in Londonderry on Saturday due to a security alert.
The train station was evacuated after claims that a bomb was left there, while Quarry Steps at Spencer Road was also cordoned off in a separate alert.
A suspicious object was then discovered by officers in the Alfred Street and Clooney Terrace area at 23:00 GMT.
Police later said "nothing untoward" was found at any of the alerts.
The underground car park at Ebrington, where DJ James Zabiela was playing, was evacuated as army bomb experts examined the object.
There were three alerts in Derry over the weekend. The railway line between Coleraine and Derry was closed for a time while searches were carried out.
The alerts happened along the Apprentice Boys parade route.