Christopher O'Kane: Derry man pleads guilty to five terrorist offences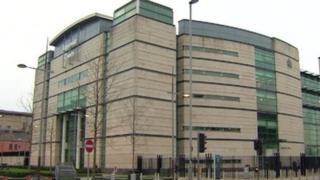 A Londonderry man has pleaded guilty at Belfast Crown Court to five terrorist offences relating to bomb attacks against security force members.
Christopher Paul O'Kane, aged 42, from Woodland Avenue, was due to stand trial on Wednesday on 17 Provisional IRA related terrorist offences, including the attempted murder of a police officer more than 20 years ago.
However, O'Kane replied "guilty'' to five of the five terror charges when they were put to him in court.
'Charges'
These were: assisting an offender in relation to the murder of Constable Michael Ferguson in January 1994, and firing a mortar bomb at a police vehicle in Fanad Drive in October 1993. Planting a bomb at the railway line at Ebrington Barracks in December 1993; placing a bomb at the home of a senior police officer at Prehen in 1994, and planting a bomb at Forge George army base in Derry.
Prosecution lawyer Robin Steer asked that the remaining 12 charges "be left on the books" and not to be proceeded without the leave of the Court or the Court of Appeal.
O'Kane will be sentenced on December 16.