Newtownbutler: Shots fired at house as vehicle set on fire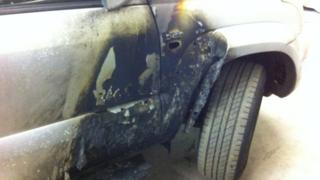 Shots have been fired at a house in County Fermanagh and a vehicle at the property has been been set on fire.
The incident happened in Milltown Court in Newtownbutler at about 01:20 GMT on Wednesday.
A family including young children were in the house at the time of the shooting, but no-one was injured.
It is understood the family are members of the travelling community who have lived in the property for two years.
Shots were fired through the front door and living-room windows.
Police said they wanted to speak to anyone who may have information on the incident.