Londonderry: Gunmen in Creggan incident 'have no support'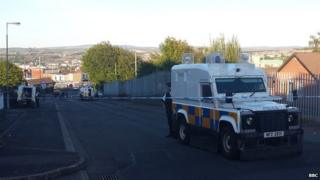 Those behind a shooting incident in the Creggan area of Londonderry on Sunday have no support in the community, a Sinn Féin councillor has said.
Police said a number of shots were fired on Fanad Drive at around 19:30 BST.
No-one was injured, but children were reportedly inside the house.
Councillor Kevin Campbell said those responsible "need to give themselves a shake".
The street was sealed off for several hours.
Mr Campbell told BBC Radio Foyle there was "a cloak of silence" over the reasons for the shooting.
"It's absolutely disgraceful. You have children out playing, it's a beautiful summer's day, everyone's enjoying themselves, and then we have someone coming along and firing shots," the Sinn Féin representative said.
"Where does this madness end? They're way behind the times, they need to move on.
"Whatever is behind it, there's no need for guns. "There's no culture for guns in this community."