Johnnie Hunter: Spinal disease patient 'not priority care'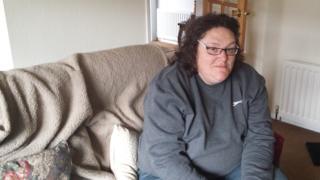 A 44-year-old man with a rare spinal disease has said he has not been seen by his specialist for seven months.
Johnnie Hunter, from Limavady, County Londonderry, has been diagnosed with syringomyelia and chiari, which can cause numbness and severe pain.
He claims he has been taken off the priority list of care because of financial pressures.
Mr Hunter was being treated by neurologists at the Royal Victoria Hospital.
A chiari malformation (sometimes called an Arnold chiari) means that the lower parts of the brain have been pushed downwards towards the spinal cord, so they are below the entrance to the skull.
Many people with a type 1 chiari malformation will develop a condition called syringomyelia where a tube-shaped cavity forms within their spinal cord and fills with fluid.
This cavity can expand and elongate over time, pressing on, and damaging, the spinal cord.
Both conditions are rare and can cause extreme pain, numbness and even paralysis.
'Life is a mess'
"I kept getting this really bad pain in my shoulder and pain in my chest, like pulling a muscle and every time I sneezed or coughed I'd this incredible pain," said Mr Hunter.
"Then all of a sudden I started to feel this weakness in my left arm, if you were touching something it felt as if there was no heat or cold in it.
"I've had 11 surgeries, two ICU visits and two decompressions - which is a thing at the back of the skull making a whole a bit bigger - and basically my life is a mess."
Maeve McLaughlin, who chairs the Stormont health committee, has called his treatment unacceptable.
"It's clear when we listen to Mr Hunter that he's in a lot of pain and distress but I think waiting lists is one of the key issues that need to be on the incoming ministers in-tray.
"It needs to be a priority for the minister, it's not acceptable that anyone in such pain can be left for seven months without answers."
'Make myself sick'
Johnnie is on a combination of medication, including morphine, but said he still finds everyday life unbearable.
"It's so bad at the minute that on the left side of my face I can't feel anything," said Mr Hunter, "I broke a tooth and didn't realise it was broken.
Johnnie said he was recently told by medical staff that he has been assessed as "non-urgent"
"Mainly our politicians are concerned about party politics and what happened in the past but there only is one neurosurgery unit in the whole of Northern Ireland and I want to see that unit given the highest priority."
The Belfast Health Trust said: "Due to the high demand and specialist nature, the current waiting time in Belfast Trust for routine/non urgent neurological MRI scans, is approximately 12 months.
"All patients are seen chronologically and based on their clinical need.
"The Trust has introduced a number of initiatives for example extending the working day and weekend access, and is currently working with the Health and Social Care Board to further increase capacity."