Firstsource: Call centre workers suspended over 'data breach' claim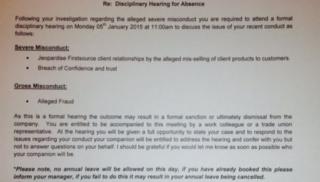 A trade union has described the suspension of workers at a call centre in Londonderry as "unprecedented".
It is not certain exactly how many workers have been suspended, but it is believed to be around 100, out of a total workforce of 1,120.
BBC Radio Foyle has seen a letter sent by the company to one of the workers.
In it, he is accused of mis-selling products and fraud. Firstsource have said an internal investigation is under way.
The firm said they are aware that a large number of people were affected in the Derry area.
"A number of policies and procedures may have been breached by members of staff," said a spokesperson.
"We cannot comment on the detail of the investigation until it has been completed."
'Distraught'
About 50 workers met trade union officials in Derry on Saturday.
Liam Gallagher from the Unite union said: "We believe that they are being scapegoated.
"We believe yes there is a problem with this contract, we don't believe that the problem arose from these workers, the problem arose elsewhere."
Firstsource employs more than 2,000 people across three sites in Northern Ireland.
Daniel Laird works at Firstsource and fears he may lose his job.
"I was suspended on the 31st of December and I was pulled aside in front of other colleagues and advised to speak to HR," he said.
"I raised issues with HR about how these issues came about. We were basically doing things we weren't comfortable doing.
"There's been no real investigation done but people have still been suspended.
"People are distraught and emotions are running high. People have children and questions need answered.
"Morale has been the lowest I've ever seen in a workplace.
"There is a constant pressure of having to do things you're not happy with. They add different procedures and policies making it difficult for people to achieve their monthly bonuses.
"Workers are finding it difficult to manage their day to day work.
"I want management to re-consider these suspensions."