Council to remove Derry from Guildhall plaque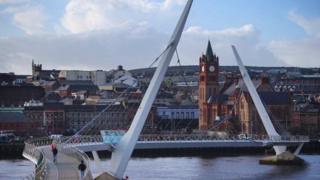 Derry City councillors have voted to remove the word Derry from a new plaque marking the reopening of the Guildhall.
It had been proposed that it would read that the Guildhall was re-opened in 2013 by "the Mayor of Derry, Councillor Kevin Campbell".
However the DUP suggested it should read mayor of the city in the interests of a shared city.
The motion was opposed by Sinn Féin councillors but supported by the SDLP. It was passed by 15 votes to nine.
'Concern'
DUP councillor Drew Thompson said the decision was about inclusion.
"People keep telling us that the minority communities in this city need to be recognised, therefore, we think that the unionist community should be included in that," he said.
"When it comes to the mayor of Derry, that was an issue and a concern because the name of the city as far as the unionist PUL community is Londonderry.
"It's an issue for the unionist population, technically it's incorrect, the name of the city is Londonderry and it's Derry City Council.
"We just asked for the two words of Derry to be removed. That's all we asked and we didn't go out of our way for Londonderry to be included.
"It will now read opened by the Mayor, Councillor Kevin Campbell, which is similar to the wording of the plaque put into council offices when they were opened."
'Disingenuous'
SDLP councillor Gerry Diver said the accusation that the word Derry had been wiped from the plaque was untrue.
"In the first 10 or 11 lines in the word Derry is mentioned four times in English and once in Irish.
"So to suggest that we removed the word Derry from the plaque would be disingenuous and in fairness to the unionists they didn't demand that Londonderry be included either, so it was a compromise."
Earlier this week, unionist councillors decided to contest the name of the Derry City and Strabane district council name through a new legal mechanism.