Derry woman's plea to others after 40 years of domestic abuse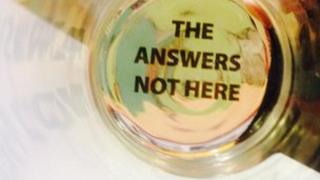 A Londonderry woman who suffered more than 40 years of domestic abuse has urged women to get out of violent relationships.
It comes as a local advice centre launches a campaign warning of an increase in domestic abuse incidents over the Christmas period.
Divert and the Woman's Advocacy Project at Dove House in the Bogside intends to use slogans on pint glasses.
The woman told BBC Radio Foyle she has spent decades living in fear.
'Strength'
"I would have been kicked, punched and burnt with a cigarette.
"The jealousy was serious and the controlling was serious.
"I was always waiting on something to happen.
"I hope people get the strength to get out."
Gina Watterson, who is from the advocacy project in Derry, told BBC Radio Foyle that there is help out there.
"That story is real success story because that lady thought it was too late. But it wasn't.
"Domestic abuse affects families and it is all about talking to people."