Barry McCrory shooting: Date set for Kieran McLaughlin murder trial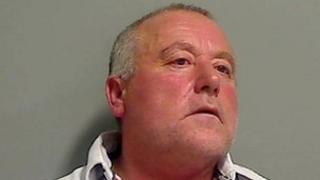 A man from Londonderry is to stand trial next year charged with carrying out the murder of Barry McCrory, who was shot dead in his city centre flat in 2013.
Kieran Edward Joseph McLaughlin, 59, from Elaghmore Park in Derry, appeared at Belfast Crown Court on Friday.
Mr McLaughlin pleaded not guilty to the murder of Barry McCrory.
The judge has set the trial date for 2 March 2015.
Mr McCrory, 35, was shot dead in his flat in Derry's Shipquay Street in October 2013.
Weapons
Mr McLaughlin was arrested on 17 October 2013 in the Fern Park area of Galliagh in Derry.
The defendant further pleaded not guilty in court on Friday to possessing firearms and ammunition with intent to endanger life and in suspicious circumstances on dates between 9 October and 17 October 2013.
The weapons included a 12-bore, double barrelled sawn-off shotgun and seven cartridges along with a Mauser self-loading pistol and magazine.
He also denied having a imitation Walther P38 pistol on 16 October 2013 in a public place with intent to cause fear of violence.
Counsel for McLaughlin said the defence planned to call a number of witnesses at the trial, including a facial mapping expert and a podiatric specialist.
Mr Justice Weir said he was less than impressed with a defence overview of their case.
"It reminds of a Santa Claus present you get out of the Co-op," said Mr Justice Weir.
"It was extremely disappointing."
The judge urged the defence to "hit the ground running" in the coming weeks to secure the services of the expert witnesses for the trial as the defendant had been in custody since his arrest 14 months ago.
Crown prosecutor Ciaran Murphy QC said that the non-jury trial is expected to last up to three weeks.
Mr McLaughlin was remanded back into custody to Maghabery Prison to await the start of his trial.