Graffiti on George Duddy's Coleraine home is 'hate crime' police say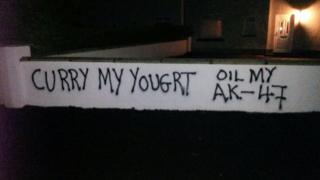 The police have said graffiti sprayed on the home of the mayor of Coleraine is being treated as a hate crime.
The message, "Curry my yougrt (sic), oil my AK-47", was spray-painted on a wall outside DUP councillor George Duddy's house.
Part of the graffiti refers to comments made in the Northern Ireland Assembly when DUP MP Gregory Campbell said: "Curry my yoghurt can coca coalyer."
Mr Duddy said: "This is a personal attack on me and my family."
"There have been almost 30 incidents like this in the Coleraine area in the past year," he told BBC Radio Foyle.
"They come like thieves in the night and do what they do. They aren't man enough to come and make comments to my face."
He added: "There is only so much security around your home you can take. I will not be moving from my home.
"We have met with the PSNI recently but they haven't been making progress in catching anyone due to lack of evidence.
"People should come forward and report what they know.
"I have made it quite clear before that if people have an issue with me they should come and speak to me."
Last month, Mr Campbell, who is MP for East Londonderry, began an address to the assembly with: "Curry my yoghurt can coca coalyer" in imitation of the Irish sentence "go raibh maith agat, Ceann Comhairle" which translates as "thank you, Speaker".
Northern Ireland First Minister and DUP leader Peter Robinson has condemned the attack.
"The repeated attacks on Councillor Duddy's house represent a campaign of hatred and intimidation against a public representative," he added.
SDLP MLA John Dallat said on Monday: "Councillor Duddy should be allowed to represent in the area without these attacks.
"The people doing this need caught."