Derry City Council: Protest over threats against council staff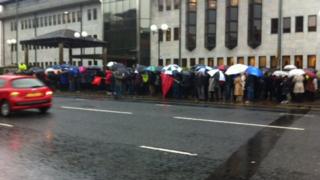 A protest has taken place in Londonderry over threats made to Derry City Council staff.
The threats were made on Tuesday against 11 community safety officers. It is claimed they were issued by dissident republicans.
The officers are employed to deal with low-level anti-social behaviour. They have since been withdrawn from duty.
Sharon O'Connor, chief executive of the council, has demanded that the threat be lifted.
The protest, outside the Derry City Council offices, has attracted about 80 people including council staff, politicians and trade union representatives.