Coleraine to Londonderry rail project: Danny Kennedy denies 'cosy' relationship with Translink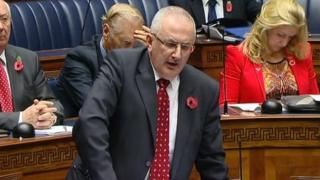 The Regional Development Minister Danny Kennedy has denied that his department has "too cosy" a relationship with Translink.
He was giving evidence to a Stormont committee inquiry about why the Coleraine to Londonderry rail line upgrade project has doubled in cost.
The original cost was estimated at £20m to £22m, but has now risen to £40m.
Last week, Mr Kennedy told the committee that Translink's costing for the project was a "guesstimate".
On Wednesday, Mr Kennedy said Translink's chief executive would carry out a review that would examine how the cost was underestimated.
'Given cover'
He said the review would report back before the end of the year, and there would also be a review that would look at how his department had handled the matter.
UKIP MLA David McNarry claimed there was a "cosy relationship" between the department and Translink.
However, Mr Kennedy described the relationship as "healthy and professional" and said he had had "robust discussions" with Translink.
He said no-one in Translink or the department "had been given cover".
When Mr McNarry asked him if he had asked for any Translink staff to resign, Mr Kennedy said he did not want to predetermine the outcome of the firm's review.
'Passing loop'
Senior officials from Translink also appeared before the inquiry.
The company's chief operating officer, Philip O'Neill, said that extra costs linked to the line's design had added £4.5m on top of the original estimate.
Mr O'Neill said the design costs had increased mainly because the location of the passing loop had changed from Eglinton to Bellarena, so that it could accommodate longer trains.
He also told the committee that situating a passing loop at Eglinton would have been cheaper because there was no level crossing nearby.
The contingency fund for the project also needed to be increased by £6.6m.
The committee heard that there had been one tender for the project, but it was rejected in June 2013 because Translink believed it did not represent value for money.