Christopher Martin McGuinness gets suspended jail term for making indecent child images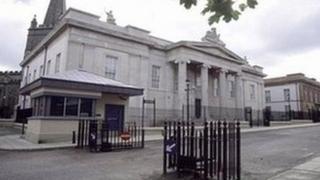 A judge at Londonderry crown court did not send a previously convicted paedophile to jail, because he said there was a possibility the man would not receive the necessary treatment.
He gave Greysteel man Christopher Martin McGuinness an eight-month jail sentence suspended for three years.
McGuinness, 48, pleaded guilty to 37 charges of making and possessing indecent images of children.
This was on dates between May 2011 and May 2012.
The images, a number of which were classified as being of an extreme pornographic nature were found on McGuinness's computer when his home at Inishowen View in Greysteel was searched by the police on 4 May 2012.
The judge said police were investigating other sexual matters relating to McGuinness and they obtained a warrant to search his home.
The judge said a total of 222 indecent images of children were found.
He said that because of the pressures and the workload of the PSNI's e-crime department it took the police 18 months to complete their investigations.
He added that in 2012, McGuinness received a four-year jail sentence at Downpatrick Crown Court when convicted of other sexual offences against children.
Prohibitions
He said McGuinness served half of the sentence in prison and is on license until May 2016.
The judge said McGuinness deserved credit in terms of sentencing, for his guilty pleas to the 37 charges.
He said the author of a pre-sentence report stated "a custodial sentence may result in there being insufficient time for him to undertake the long-term treatment required in order for McGuinness to address his sexual attraction to young children".
The judge said "it is therefore my view that it is not in the public interest to interfere with the treatment as the treatment is designed to protect children and that should be paramount".
As well as imposing the suspended jail term, the judge also put in place a series of prohibitions on McGuinness under a Sexual Offenders Prevention Order that will remain in effect until further notice.
Under the terms of the order, McGuinness is banned, without the prior approval of his social services risk manager, from associating with children under the age of 16 and from unapproved use of the internet.
He must not go within 50 metres of child facilities such as schools and playgrounds.
He is not allowed to engage in any voluntary or paid work with children and McGuinness must also inform the police of his movements over the next 10 years.