Ebrington: £5.5m project completed in Derry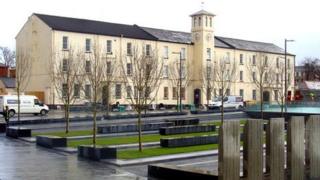 The first and deputy first ministers have announced the completion of a £5.5m capital project in Londonderry.
The scheme at Ebrington included the construction of a new car park, access roads and a "development platform" for new investment.
The project is part of the Ebrington Square site, which opened in 2012.
Peter Robinson said the completion of the project was evidence of the executive's "commitment to invest and create employment opportunities".
Martin McGuinness said: "The site will be a catalyst for job creation, building on the recently announced craft brewery and cafe, both scheduled to open in spring 2015.
"It is imperative the right infrastructure is in place to support our aspirations to attract investment and create jobs for people."