Chief Constable George Hamilton defends Londonderry security operation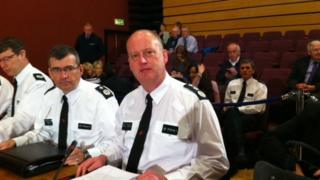 The Chief Constable George Hamilton has defended a security operation in Londonderry, but said lessons in communication needed to be learned.
He was speaking at a policing board meeting in the city on Wednesday.
Mr Hamilton addressed criticism about how the PSNI dealt with a follow-up security operation in the Creggan area on Monday, after a dissident republican bomb attack on a police vehicle.
He said the decisions were taken on "a sound basis of risk management".
"I'm very satisfied with the technical decisions around the 18-hour delay," he said.
'Policing eyes'
"What I'm not satisfied with, what we need to do better at, is explaining what we're doing, what we are not doing and why.
"Advocates for policing deserve more adequate engagement from us, so reviews will be done, lessons will be learned and we will apply those not just in Derry, but right across Northern Ireland in the future."
Attending his first public meeting in the city, Mr Hamilton admitted that "perhaps we could have communicated better" about how the operation was being handled, and said police needed to "see things through the eyes of the community, not through professional policing eyes" all of the time.
People living in the Creggan Heights area had to leave their homes and were unable to return for almost two days while the police carried out a scene operation.
He said: "I have explained to people that we're listening, both police actions and their views need addressed.
"We will go and reflect on how we communicated it, and I know local leaders will be responsive to that."
'Violent thugs'
However, the chief constable said it was important "not to lose sight" of the attack on police officers in Derry, which could have been fatal.
"Let's not lose sight of the violent thugs who tried to kill four police officers," he said.
"There might be tidying up needing done and to explain our actions better, but actually we didn't try to kill anybody.
"It was violent dissident republicans who have their heads buried in the sand, and who think that violence is going to deliver their political ideology."