Coleraine to Londonderry rail line: Translink officials to appear before inquiry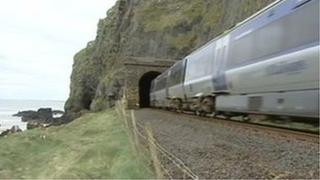 Translink officials have been asked to appear before a Stormont committee inquiry into how a County Londonderry transport project was handled.
On Monday, the regional development minister Danny Kennedy said the cost of the Coleraine to Derry line project had risen to £40m.
The work has nearly doubled in cost from its original estimate of £20 to £22m.
Mr Kennedy said there would be delays, but "could not confirm a timescale".
The minister is also expected to appear before the inquiry, which will be carried out by the regional development committee.
It is not yet known when the inquiry will begin.
Last year, it was announced that the second stage of the upgrade was to be delayed for a further year because Translink was having difficulty finding the right supplier for signalling equipment.
The work will now have to go out for retendering.
On Thursday, Sinn Féin committee member Cathal Ó hOisín told BBC Radio Foyle the inquiry would seek to find out why the original estimate had increased so sharply.
"We have to look at this to ensure that safeguards are put in place," he said.
"That's the crux of the issue, that's the job of the committee. Some of us have been asking questions for some time and not getting answers."
Mr Ó hOisín added that the project's finances needed to be ring-fenced from impending budget cuts facing the department.
He said: "I think it has to be set aside from the minister's budget. It is a programme for government commitment so it can't be knocked off the radar at a whim."
A Translink spokesperson said: "We will be working closely with the committee to assist them with their inquiry."