Mother's call to lower cervical screening age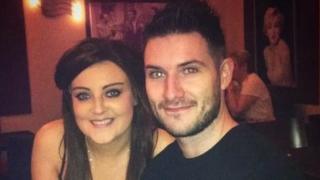 The mother of a Londonderry woman whose daughter died of cervical cancer last week, has appealed for smear tests to be offered to women under 25.
23-year-old Sorcha Glenn had been diagnosed with cervical cancer last year after originally being turned down for a smear test.
Currently, only those over 25 can be screened for cervical cancer.
The health department has said the policy is in line with "the best available scientific evidence".
"This is also the advice of the International Agency for Research on Cancer, part of the World Health Organization, and is the policy adopted by most EU member states," the department added in a statement.
In Scotland, women from the age of 20 are screened - though this is going up to 25 in 2016. The age in England and Wales is 25.
'Courageous'
Sorcha's mother, Christina Glenn, has said the age for screening in Northern Ireland should be lowered to aid detection.
In August, Sorcha had spoken out publicly about wanting to have the age lowered and she had urged young women to ask for the test.
Her mother has said that the family will continue to campaign.
"She was the most courageous person I have ever met. Her wish was that no young woman would ever go through what she went through.
"She isn't the only woman to die of cervical cancer. The particular cancer she had was aggressive," she added.
"I can't say that a smear test would have saved her but it would have meant that treatments could have started months earlier.
"It is not natural to bury your 23-year-old daughter. Women under 25 need to get their smears."
Councillors in Derry have agreed to write to Health Minister Jim Wells to request a lowering of the age limit.
'Anxiety'
In its statement, the health department said: "Any screening programme can do harm as well as good, and the policy has to get the balance right between potential harm and potential benefits.
"Cervical cancer is rare in young women and current evidence indicates that screening is not effective in women in the 20-25 age group because those who develop cervical cancer are as likely as not to have been screened.
"Screening women under the age of 25 means that a high number of them will be told that their results are abnormal, as cervical abnormalities are common in women under the age of 25.
"Most of these abnormalities will regress over time and never progress into cancer. However, detection of such abnormalities would cause unnecessary anxiety and lead to further investigations and in many cases to treatment that is not needed.
"In addition, the best available evidence suggests that cervical screening women under 25 does not prevent the very rare cases of cervical cancer that occur in this age group."