Mark McAteer: Limavady man must repay VAT after tax fraud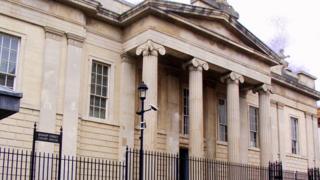 A Limavady businessman jailed for fraudulent VAT repayments has been ordered to pay £113,472 or serve a further three years in prison.
Mark McAteer, 32, from Gortnarney Road, Limavady, was jailed in May 2013 after he had claimed to be building water purification plants in Basra and Mosul in Iraq.
He told suppliers he needed invoices in advance to get letters of credit from the Iraqi government to fund this multi-million dollar contract.
McAteer used the invoices as part of a false VAT refund claim totalling £567,420.17.
'Manipulated'
Mike Parkinson, assistant director of criminal investigation at HMRC, said: "McAteer deliberately set out to create a false paper trail so that he could claim money that he was not entitled to.
"He manipulated a system that exists for the benefit of legitimate companies with the sole purpose of lining his own pockets.
"Today's hearing will serve as a reminder that action does not stop with a prison sentence. We will pursue every avenue to ensure money is reclaimed for the taxpayer and public finances."