Londonderry DUP councillor Maurice Devenney to replace Hay as MLA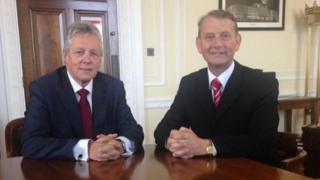 The Democratic Unionist Party has announced that Londonderry councillor Maurice Devenney will replace William Hay as Foyle MLA.
Former Speaker of the Northern Ireland Assembly William Hay resigned his seat earlier this month for health reasons.
Mr Devenney has been a Derry city councillor since 2005 and was mayor of the city in 2011-2012.
First Minister Peter Robinson said he was "delighted" to welcome the party's newest MLA.
"When William Hay decided to step down from the assembly the Democratic Unionist Party lost a dedicated and hard-working constituency representative.
"I am delighted however that the DUP will continue to be represented by someone well known to the people of Londonderry and with a track record of delivering for the community.
"Maurice will further strengthen the DUP team in the assembly and will make a valuable contribution to debates and in the committees he will serve on," he said.
"He joins the assembly on a day it debates the most significant Private Members Bill ever brought forward at Stormont with Lord Morrow's Human Trafficking Bill reaching consideration stage in the chamber."
Mr Devenney signed the members register to officially take up his seat.