Londonderry man, 32, remanded over £2m drugs seizure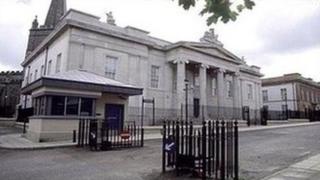 A man has been remanded in custody at Londonderry Magistrates' Court, in connection with a series of drug seizures in England and Northern Ireland, worth more than £2m.
Declan Gallagher, 32, is originally from the Creggan area of Derry, but now has an address in the Greater Manchester area of England.
He is charged with 17 drugs-related offences, alleged to have taken place between September 2013 and August 2014.
Mr Gallagher denies all of the charges.
Anonymity
A Police Service of Northern Ireland (PSNI) detective sergeant told the court he could link the defendant to six major seizures.
Among the seizures was a cannabis haul worth £600,000, recovered during a 2013 police raid on a slaughterhouse.
Four other men, who were arrested earlier this week in locations in Northern Ireland and Manchester, are also facing charges connected to the investigation.
An anonymity application for the defendant, who is a driving instructor, was denied.
The defence told the court that Mr Gallagher had been shot in a murder bid in County Donegal in 2009, and that his partner and their home had also been attacked.
'Major player'
However, the judge said all of the defendant's details could be reported, with the exception of his address.
The detective described Mr Gallagher as a "major player" in a number of organised gangs responsible for importing illegal drugs into Northern Ireland.
The court was told that the defendant had travelled to Spain and Amsterdam with other members of the gangs, and that there was enough "serious evidence" to connect Mr Gallagher to all of the charges.
The evidence includes phone calls, text messages and CCTV footage.
An application for bail was denied.
The defendant is expected to appear in court again by video-link on 6 November.