Irish teens make Time magazine's 'most influential'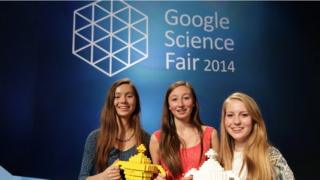 Three girls from County Cork in the Republic of Ireland have wowed Google, tickled Time magazine and are now setting their sights on tackling world hunger.
Ciara Judge, Emer Hickey and Sophie Healy-Thow, from Kinsale Community School, won this year's grand prize at the Google Science Fair in San Francisco.
They battled it out in the 15 to 16-year-old age category with their own home-grown project, which examined the use of natural bacteria to increase crop output.
The teen trio have now been named in Time magazine's most influential teenagers of 2014 list, along with Hollywood stars Chloë Grace Moretz and Jaden Smith.
They were inspired to help improve food production in developing countries after learning about a famine in the Horn of Africa in 2011.
"Screaming and jumping"
Their project focuses on a naturally occurring bacteria in soil called diazotroph.
The schoolgirls' research showed that if diazotroph is present, it accelerates the germination process of high-value crops such as barley and oats, potentially boosting output by up to 50%.
Sophie Healey, who is now 17, said that when they first got their results, they could not believe what they saw.
"We started the project with the idea, if we don't get the results we're hoping for well then we're still doing science, but getting those results was just amazing," she said.
"I can still remember us screaming and jumping up and down. What we found after we tested over 13,000 seeds was that we could increase the rate of germination by 50% and increase the dry mass yield by up to 74% .
"Obviously this has massive implications for food production, for farmers and in general producing more food for the future."
"Crazy"
Word spread quickly and before long their entry into the Google science fair created a bit of a buzz.
Sixteen-year-old Ciara Judge said the reaction was overwhelming.
"It was absolutely fantastic, we had no idea that we were going to progress any further than the 90 regional finalists, so when were announced as global finalists we were absolutely over the moon.
"We were treating the trip to California as the prize itself because all the other projects were so fantastic, I mean, there were people who were literally giving speech to those who couldn't talk so you know we just never thought that we ever stood a chance.
"Then when we were called out as winners, it was crazy, we were so surprised and so happy."
"Trained as astronauts"
The girls, who are all best friends, have a busy year ahead of them. Included in their Google win was a trip to the Galapagos islands and a chance to go into space.
Emer Hickey, 17, said the prizes were "unreal".
"We actually won a 10-day trip to the Galapagos islands and we'll be going to Virgin Galactic to be trained as astronauts, so that's pretty exciting too."
As well as that they won a $50,000 (£31,000) scholarship to go towards their education.
Speaking of the future, Emer said science will play a central part.
"I think we all have different ideas of what we want to do, Sophie is interested in marine biology and plant biology, I'm interested in going in to science communication and Ciara's quite interested in zoology,"
And there was time for one special shout-out to the man who inspired them.
"We've a brilliant teacher in the school called Mr Holly and basically he just really encouraged us to do projects and helped us along the way.
"It's thanks to him that we stuck with it."