Bloody Sunday: Cuts to police investigation 'political'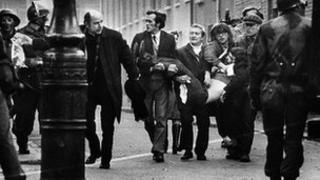 A relative of a civil rights protester shot dead by soldiers on Bloody Sunday has said the decision to lay off police staff investigating is "political".
John Kelly, whose 17-year-old brother Michael was killed, said the timing of the move was critical.
The majority of the team investigating Bloody Sunday are to be laid off because of budget cuts.
Police told the families that the first soldiers would be interviewed on Monday 6 October.
"Broken Promises"
John Kelly said he received a phone call from the investigating officer, Det Ch Insp Ian Harrison, apologising for the fact that investigators would be sent home within a two weeks.
Mr Kelly said he was angry that assurances by the Police Service of Northern Ireland, in December 2012, that the inquiry would not be interfered with, have been reneged upon.
"There are a lot of broken promises here and the people and the families are very, very angry about how it's panned out"
"I was in total shock. I'm still in shock. It was just unbelievable. The families are still in shock as well.
The PSNI said on Thursday that severe financial pressures meant that the Serious Crime Branch team investigating Bloody Sunday would be losing the majority of its officers.
Det Ch Insp Ian Harrison said he would be seeking clarification on a way forward for the investigation.
"I have been speaking with relatives of those killed on Bloody Sunday and I sympathise with their disappointment and anger at this development. We have agreed to meet in the coming days."
John Kelly said that should not affect the investigation into his brother's murder.
"The British government are responsible for what happened here, they set up an inquiry that cost £195m so if Stormont or the PSNI can't afford to run this inquiry, let the British government pay for it.
'Terrible'
"It could be a political move by the higher echelons of the British government because we were told that come Monday the first soldiers were to be interviewed.
"Now that's not going to happen because the staff isn't there to do it. It was reaching a critical stage. Now all that's gone and it's terrible.
"In our view we have to look at it legally and see what we can do about it. Where else on this world would you see a live murder investigation being pulled because of money? To me, money is more important than justice as far as they are concerned."