Derry food Bank: Foyle rotary 'feeding 10 a day'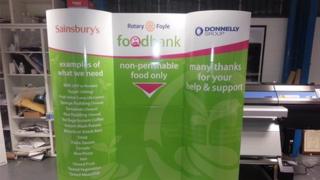 A growing number of people in Londonderry are turning to food banks to feed their families, the organisers behind one facility have said.
Rotary Foyle have said they handed out around 10 emergency food parcels a day since opening in May.
Deirdre McDaid, who helps run the facility, said the situation was "scandalous".
Northern Ireland's largest food bank charity, the Trussell Trust, handed out nearly 12,000 food parcels last year.
'Significant demands'
"What I can say, and it's not a cause for celebration, is that the demand has been absolutely huge and it has outstripped our plans," said Ms McDaid.
"In the first four months of the food bank operating, we've fed 1,200 people so it's quite a significant demand.
"It's an awful lot of people from right across this city, from all backgrounds and communities and we're seeing it increasing week on week."
Across Northern Ireland, almost 12,000 people used food banks in the last year. That is compared to 80,000 in Wales, just over 70,000 in Scotland and more than 750,000 in England.
The total number for the UK was seven times what it was three years ago.
Ms McDaid said some of those availing of the food bank had not eaten for days.
"There was an old gentleman who hadn't eaten or drank in two days because his benefits were stopped," she said.
"Frightening"
John McMonagle, chairman of Rotary Foyle Food bank, said: "I don't know what percentage of the population knows about this but it is frightening to see how many people do actually apply for food.
"All the signs are that if welfare reform is brought in and implemented it will get worse before it gets better."