Stephen McConomy: Boy's family to continue fight for justice after HET closure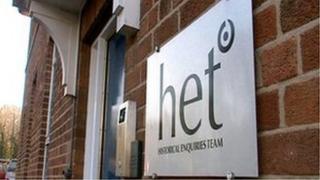 The family of a Londonderry schoolboy killed by a plastic bullet 30 years ago have said they will continue to fight for justice after the HET is wound up.
Eleven-year-old Stephen McConomy was playing with friends in the Bogside when he was shot in the head by a British soldier.
His death was investigated by the Historical Enquiries Team but it is now set to close because of budget cuts.
The soldier claimed he fired the shot by accident and was never prosecuted.
'Policing the present'
Stephen's brother, Emmet, said the family had engaged with the HET in a "very open and honest way" but felt that the investigation showed favouritism towards security forces.
"Not only was he (the soldier) not prosecuted he was not the designated gunner.
"He actually took the weapon off the gunner and tried himself on two occasions to fire the baton round, which the gun jammed.
"So he had time to see what was happening around him," he said.
Emmet McConomy said he would be against any suggestions that the Police Service of Northern Ireland could take over some of the historical investigations.
"They should be policing the present. We met with the PSNI a number of years back to ask them what investigations they had conducted into the murder of our brother.
"An 11-year-old child gunned down in his own home town by state forces and the only conclusion they could come to was that the soldier involved, had told them it was an accident."
"No Faith"
Emmet McConomy said he believes the very nature of historical investigations in Northern Ireland required an independent body because questions have to be asked of the security forces.
"I feel that in any other line of work you would not be asking your colleagues to investigate an in-house matter.
"I can speak for my family and say that we would have no faith in the PSNI investigating Stephen's murder because they have to question what the RUC did at the time."
The HET was set up in 2005 as a special investigative unit attached to the PSNI to re-examine the deaths of 3,260 people in Northern Ireland between 1968 and 1998.