Hugh 'Dick' Doherty: Death of Celtic's oldest former player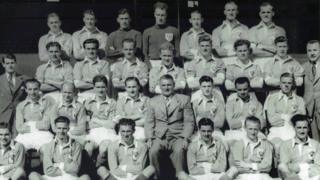 Glasgow Celtic football club's oldest surviving player, Donegal-born Hugh 'Dick' Doherty has died, aged 93.
The Buncrana native made his debut for 'The Hoops' in the 1946/47 season before joining Blackpool, where he vied with Sir Stanley Matthews for a place on the wing.
The FAI and the Donegal Sports Star Hall of Fame honoured him for his contribution to grassroots football.
Mr Doherty passed away on Tuesday morning after a short illness.
'Unique'
Speaking to BBC Radio Foyle, Football Association of Ireland Chief Executive John Delaney said he was an incredible man.
"I had the honour of meeting Hugh on a number of occasions, as well as presenting him with two awards for his contribution to football," he said.
"He deserves every one of those awards and more, he lived a great life and had a great career. He was very understated and always had a lovely smile when you met him. He gave back to the game and that's a wonderful and unique attribute.
"We were all very sad to hear of his passing and we hope to pay a special tribute to him during one of the Irish international matches."
"Love of the game"
As a player, Hugh Doherty, lined out with Derry City, Dundalk, Glasgow Celtic, Blackpool and Raith Rovers during the 1940s.
However, he suffered a serious injury while at Blackpool which cut short his career and the Irishman returned to his native Donegal.
He went on to play for local clubs and was a founder member of Buncrana Hearts in 1944, a team which continues to this day.
He was also involved in the development of the Inishowen League, Ulster Senior League and Ulster Football Association.
At the age of 93 he was still active as assistant treasurer of the Inishowen Football League.
Speaking before his passing, Hugh's daughter Deirdre said her father just loved football.
"My father does not pass much heed on awards but has been involved with football all his life, for the love of the game," she said.