MTV Crashes: Katy B pulls out of gig following death of brother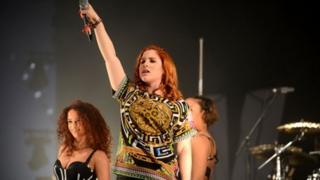 British singer Katy B has pulled out of an MTV concert in Londonderry following the death of her brother.
She was due to perform with rapper Professor Green and Grammy-nominated singer-songwriter MNEK on Friday.
The 10,000 tickets for the gig at Ebrington Square sold out within 40 seconds when they went on release earlier this year.
Following the news, MTV announced that she would be replaced by girl group, Neon Jungle.
In a statement on MTV's website, Katy B said she hoped "to be back to her fans soon".
Katy B had previously worked as a mentor on the BBC's Music City TV programme, which helped a group of music-loving Derry youngsters perform on some of the biggest stages during the 2013 City of Culture year.
DJ Afrojack will also play at the event in Derry.
The mayor of Derry Brenda Stevenson said it would be a "huge weekend" for city.
"It's a chance to show the world we can attract huge events and generate positive publicity about a peaceful place intent on providing a better future, especially for our young people," she said.
Previous MTV Crashes concerts have taken place in Belfast, Manchester and Glasgow.
The concert will be screened across MTV's UK music channels and subsequently broadcast on its European music channels in October.