Altnagelvin Hospital trials four-hour A&E target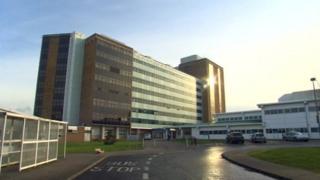 Altnagelvin Hospital in Londonderry has met a target to treat every patient in its A&E department within four hours.
The hospital trialled the lower target on Friday - current Department of Health targets say no patient should wait longer than 12 hours.
In a 24-hour period, from midnight on Thursday, the A&E department treated 160 patients, 111 were discharged after treatment.
The other 49 patients were admitted.
Dr Ying Kuan, divisional clinical director at the Western Trust, said it had taken a "lot of planning".
"We did quite a few things differently," he said.
"This was a whole systems approach so we engaged the entirety of the trust and this was from the NI Ambulance Service to the community services, including social workers, mental health teams, as well as everyone within the hospital.
"What was palpable was that there was a wholesale buy-in from everyone in the trust to the entirety of the project from our porters and cleaners, caterers, right up to our frontline clinical staff, including nurses and doctors. It was a brilliant atmosphere."
Dr Kuan admitted that there would be challenges in reaching a four-hour target on a permanent basis.
"I think the sustainability of what we did on one day is going to depend on us taking a very considered re-evaluation of what we did well on Friday and imposing some of those changes permanently," he said.
'Priorities'
"The second thing we are going to be looking forward to is in this difficult economic climate, additional financial investment to our frontline services, that's clearly necessary.
"Health is always going to be complex and finances are always going to be limited, but ultimately we are going to have to decide on where our priorities are."
Taxi driver Christie O'Donnell was one of the patients who was treated at Altnagelvin's A&E during the four-hour target.
He attended the hospital after becoming unwell while working.
"I went into casualty and the girl took my name and I told her I was having pains in my chest so they started hooking me up and the next minute they said to me 'you're having a heart attack at the moment'," he said.
He was seen by a consultant shortly after arriving.
"He just basically said to me 'you're going to theatre right away'," Mr O'Donnell said.
"He said 'you have a blocked artery and I'm going to have to put a stent in you'. He took me in and was explaining to me on the way down what would be happening.
'Very lucky'
"I went in there at five to 12, into casualty, and I was up in my bed in the room in the cardiac unit at one o'clock. I can't believe it was done that quick."
Mr O'Donnell said he felt "very, very lucky" to be alive.
"I am a lucky boy, 49 years of age with a massive heart attack and I was able to get sorted within an hour," he said.
"They saved my life and if everybody got the care that I got, 150%, they were brilliant and doing it so quick."
Last month, Health Minister Edwin Poots said his department was facing a £140m shortfall in funding, following the June monitoring round at Stormont, when departmental budgets were examined and reallocated.
Training
The Northern Ireland Executive agreed to cut Stormont departments' budgets by £78m, with the exception of health and education.
As a result of the reallocation, the Department of Health received £20m, but Mr Poots warned it was not enough to maintain safe health services.
He outlined the effect the cuts could have on the new developments at Altnagelvin Hospital, and said the situation was out of his control.
Meanwhile, the College of Emergency Medicine, the body that speaks for doctors and consultants working in A&E departments in the UK, has called for urgent action to address blocked A&E departments.
It said a new condition called 'exit block' was harming patients and said they are put at risk when 'exit block' occurs.
This happens when hospitals are unable to get patients from A&E into a bed on a ward.