Londonderry councillor Gary Donnelly could face jail over graffiti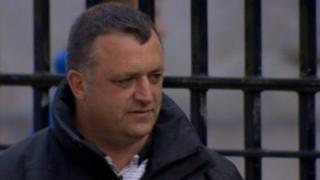 A Derry councillor and leading dissident republican has been told to pay for damage to the city's historic walls or face jail.
The warning was issued by a district judge to Gary Donnelly, 43, from Iniscairn Road in the Creggan area of the city and to Liam Brogan, 51 and Terry Porter, 56, both from Carnhill.
All three men are charged with painting political slogans on the city's walls.
They have been given until 5 November to pay £2,292 in restitution.
The defendants denied causing criminal damage by painting anti-internment slogans on a section of the walls overlooking the Bogside area of the city in February.
They were photographed and filmed by police officers daubing white paint on the walls.
Having read the evidence and viewed photographs of the incident, the judge said it was "quite clear all three were caught red-handed or in this case literally white-handed since they were covered in white paint at the scene."
The judge said no one had a right to damage historic monuments.
"Very quickly we would not be able to see the stones on the walls as there would be so many slogans. As regards their political protest, these men were about 30 years too late because to my knowledge internment ended in the seventies," he said.
Mr Donnelly was elected to the new Derry-Strabane super council after local government elections in May.