MTV Crashes: Katy B, Afrojack final headliners for Londonderry gig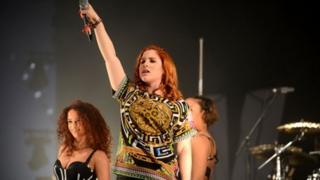 British singer Katy B and DJ Afrojack are the final two acts announced for the MTV concert in Derry later this month.
They will join rapper Professor Green and Grammy-nominated singer-songwriter MNEK.
Organisers said 10,000 tickets for the gig at Ebrington Square on 19 September sold out within 40 seconds.
Katy B said she was excited to be headlining the gig "It's going to be an amazing experience."
"To be back up on the stage in front of the massive Derry crowd! I'm really looking forward to it!" said the London born singer-songwriter.
Katy B is no stranger to the area having worked as a mentor on the BBC's Music City TV programme, which helped a group of music-loving Derry youngsters perform on some of the biggest stages during the 2013 City of Culture year.
"Big party"
As well as achieving his own chart success, Afrojack has collaborated with some of the biggest names in pop music including Ne-Yo and Beyonce.
"I'm very excited to play MTV Crashes, I've never been to Derry!" he said.
The Dutch DJ said he was impressed by his fellow headliners "The line up so far looks great, it will be fun to get up there alongside Professor Green, and MNEK. Get ready for a big party!"
Last year, Derry hosted the Radio One's Big Weekend and RTÉ's Other Voices festival as part of the inaugural UK City of Culture celebrations.
Previous MTV Crashes concerts have taken place in Belfast, Manchester and Glasgow.
The concert will be screened across MTV's UK music channels and subsequently broadcast on its European music channels in October.