Edwin Poots: Health cuts 'could delay new Altnagelvin radiotherapy unit'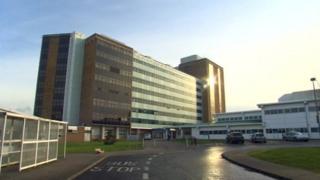 The opening of a new radiotherapy unit in Londonderry could be delayed by six months because of health budget cuts, according to the health minister.
The unit, being built at Altnagelvin Hospital, was due to open by mid-2016.
Health Minister Edwin Poots said it will not open on time unless money money is allocated to his department.
Mr Poots also said that plans for a 24-hour laboratory used to treat patients with serious heart conditions could be delayed indefinitely.
Last month, the minister said the Department of Health was facing a £140m shortfall in funding, following the June monitoring round at Stormont, when departmental budgets were examined and reallocated.
Training
The Northern Ireland Executive agreed to cut Stormont departments' budgets by £78m, with the exception of health and education.
As a result of the reallocation, the Department of Health received £20m, but Mr Poots warned it was not enough to maintain safe health services.
On Thursday, he outlined the effect the cuts could have on the new developments at Altnagelvin Hospital, and said the situation was out of his control.
Work to clear and prepare the construction site for new radiotherapy unit have already begun.
Mr Poots said: "The building of it will continue apace, but as things stand, unless I get more money in the October monitoring round, the training of staff will be delayed and the consequence of that will be that the opening will be delayed.
"That's not a position any of us want to be in," he added.