Londonderry college staff donating money for food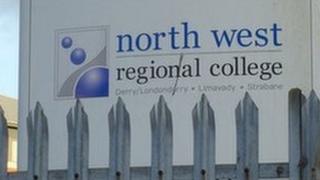 Staff at the North West Regional College are donating money to buy food for students struggling with their finances.
It follows the revelation that student hardship funds have been cut by a third over the last five years.
The money goes towards providing non-perishables such as pasta and canned goods.
The scheme is part of the college's student welfare services.
NWRC student liaison officer Willie O'Donnell said the demand for the service has grown over recent years.
"Last term up to 20 students were detected as needing help. We do it as best we can so that they are not standing out as people who are poor and in need of this," he said.
"There has been cuts to the hardship fund, but this year we, have been given an extra £75,000 to cover that."