Donegal to get first Shannon lifeboat in Ireland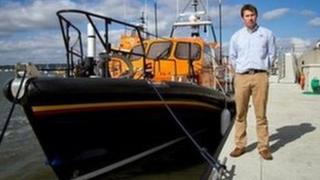 The Royal National Lifeboat Institution in Ireland is to get its first Shannon class boat.
Shannon craft are the smallest and lightest in the RNLI fleet and capable of 25 knots.
The new 2.4m euros (£2m) lifeboat will be stationed on Lough Swilly in County Donegal and is expected to arrive in April 2015.
The boat was designed by Peter Eyre from Londonderry who was rescued by a Lough Swilly lifeboat when he was 14.
Lough Swilly lifeboat operations manager John McCarter said it was a historic day for the station.
'Major advancement'
"This new lifeboat, which has been designed with the lifeboat crew in mind and which will make our response times even faster, will be a major advancement in lifesaving on the North West coast."
The Shannon class of vessels are powered by water jets rather than propellers, allowing them to operate in shallow waters and be launched and recovered from beaches.
Peter Eyre, an RNLI naval architect from Derry was instrumental in the development of the new lifeboat, designing the hull form at the age of 24 in his spare time. Mr Eyre attended Foyle and Londonderry College before studying ship science at the University of Southampton.
"I was doing that in my spare time but it soon became my day job when my boss saw what I was doing," he said.
"He could see I was working on something and encouraged me to continue."
More than 50 new Shannon class lifeboats are set to be built within the next 10 years to replace many of the Mersey and Tyne class boats.
The RNLI say Lough Swilly's lifeboats have launched 710 times and saved 47 lives, as well as bringing 517 others safely home, since its establishment in 1988.